Index
About the AMBL
How to reach us

How to reach us/ Maps/Facilities

---
Amakusa Marine Biological Laboraotry
(Kyushu University)
ADDRESS
2231 Tomioka, Reihoku, Amakusa, Kumamoto 863-2507, Japan

TEL

+81 (0)969-35-0003
(If you have to speak in English over the phone, speak very slowly and clearly to increase your chance of being understood correctly !)

FAX

+81 (0)969-35-2413

URL

http://ambl-ku.jp/

E-mail

arakaki ( at ) ambl-ku.jp
Fukuoka, Kumamoto, Nagasaki and Kagoshima are major cities in Kyushu island that have air and express train links with international gateways of Tokyo and Osaka. Some international flights come directly to Fukuoka A.P.

Can you guess what is indicated in this diagram ? Brown boxes to the left are (from top): Kumamoto, Fukuoka, Kagoshima and Nagasaki..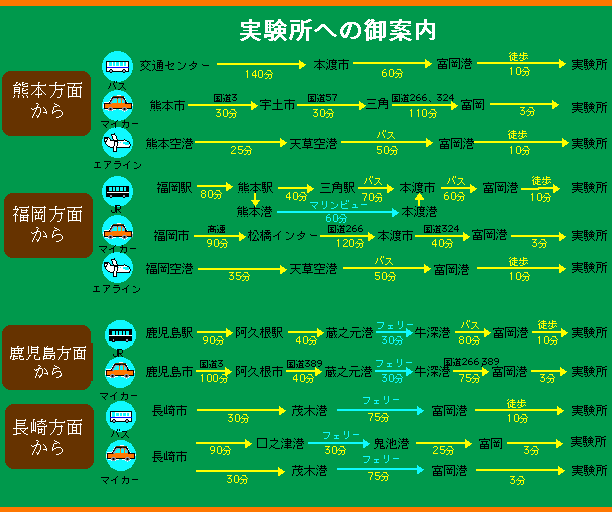 As you can probably imagine from the above diagram, the AMBL offers you an unbeatable diversity of travelling opportunities. Because it is located in the geographically complex, western-most corner of mainland Kyushu, you can choose from virtually any combination of modern means of transport including ferry, bus, airplane, train and a private car from any major town in Japan. Accordingly, the time from Fukuoka will range from less than 1 hour by airplane (but sceptible to last-minute cancellations) to nearly 6 hours on a coach (express bus service, more reliable than air transport). The best is to contact us for advice, as the availability and convenience of these services vary greatly with seasons.
---
How to arrange visits
Enquiries in english should first be made to the Director.