Index
Field Courses

Introduction / Field Course Gallery

---
The Amakusa Biological Laboratory offers field courses in marine biology and ecology to people at different levels of knowledge and experience. Several undergraduate and postgraduate courses lasting 6-9 days are organised each year. In each course up to 30 students are accommodated (the capacity of our Students Laboratory and Dormitory). Summer field courses are particularly popular and many students come to the Lab with a little bit of holiday anticipation. However, they soon find out that a fully-academic, intensive field course is on offer. Course contents vary each year, as we keep developing new course materials. Closely guided by members of the Lab, students are required to make ecological and behavioural observations and experiments, analyse data, write reports and make presentations (all in English) at the end of the course. Accordingly, time schedules in these courses are very tight and the majority of students are seen to work until early hours in the morning (or even all through night, though we do not encourage that) towards the end of a course.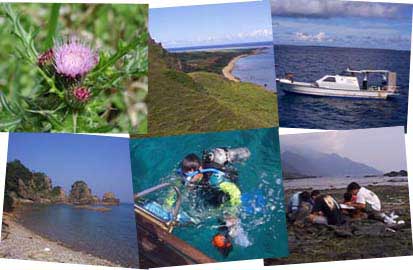 Foreign students at any level of study are welcome in these courses and we make every effort to accommodate them. As the courses are in English, they can make valuable contributions to a successful completion of project works (students generally work in groups). When the results are presented at the end of a course, our staff and postgraduate students join to fire questions after questions in English and course participants are guaranteed with intellectual satisfaction (and, most understandably, exhaustion !). If you wish to make a serious mental preparation before joining a course, see "Species Coexistence".
Members of the AMBL also undertake courses for general public, school teachers and children on an irregular basis. These courses are considered valuable for raising awareness of the rich natural environment that we have in this part of Japan.
If you are interested in spring and summer field courses, contact the Lab well in advance of the course in question, as places are limited.